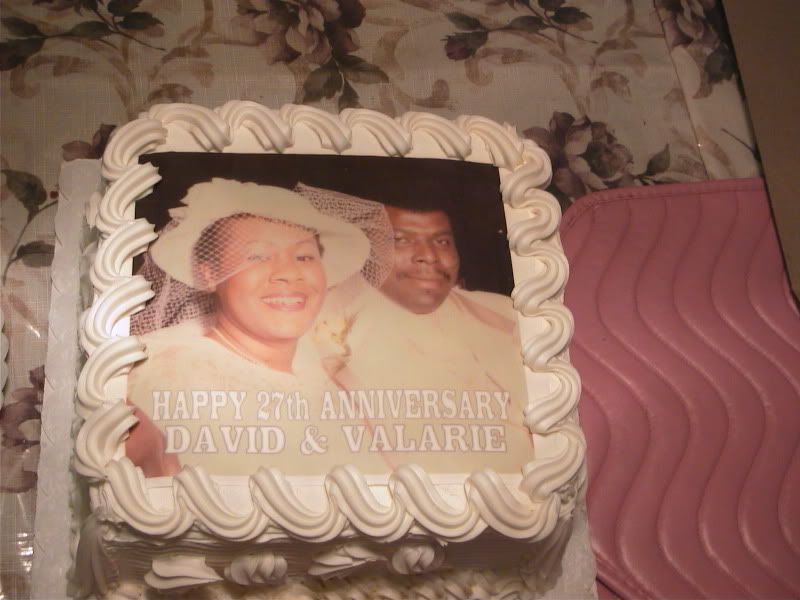 That would be my parents. Picture was taken 12/8/79.
Friday was their 27th wedding anniversary. I didn't do anything for them last year so I thought it would be nice to invite some family over to eat all this cake. Since all this was a suprise neither my dad or mom knew. My dad went out today and bought a damn
cake
after I went out last night and ordered the photo cake. Now these mothersuckers got two cakes. The parents were suprised and happy so in the end that made me happy but damn, that was 50 bucks down the toilet.

I have to touch on the speech my father made. It honestly brought a tear to my eye. He turned the music down and turned to my mother. He said he doesn't know how it happened but he thanks God everyday for my mother. He said, it's like the day she was born it was written that they were to be together. Deep shit. My dad couldn't find the words to explain how he came from a small island to the United States and was able to meet his other half. He said it had to be written in the stars. I think I peeped my mom shedding a tear too. We talk about it's good to see black love but my parents have been living it for the past 27 years. It truly is a beautiful thing.

My father also had to stink up the night by trying to sing their wedding song, Forever Mine, by the O'Jays. Man oh man. Then my
aunt
got up and was doing the chicken noodle soup to James Brown. I had to get up and get a drink 'cause looking at her was stressing me out. By the end of the night all the old timers were inebriated and slurring all their words. I guess for them it was a good night.