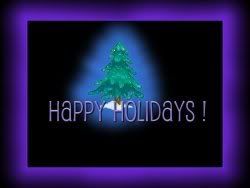 Shaq is wishing everyone a happy holidays. If you think I'm about to run down all the holidays that are celebrated you can forget it. I'm beat and tired. It was a rough week, hell it was a tough year. I'll take time out to say I'm thankful though. For everything I've been blessed with, the people in my life, even my job. I hope you too are thankful for what you have 'cause you know there is someone out there worse off. I know everyone just loves to do the family thing this time of year but make the most of it.
I'm out this piece till about Tuesday. Till then let us join hands and praise:
Perhaps Reverend Alicia was a bit too much for some of us. Hmmm? Ok, something a little more easy going.
MURRY CHRISMASS, MURRY CHRISSMAS, MURRY CHRISSMAS...JINGLES BELLS NUKKA.